Services
Services Focused on Solutions
Services designed to help save time, increase productivity and reduce costs. We offer everything from custom cuts and fabrication to customized stock programs. Our service programs also help build better partnerships between Laird our customers. Your project becomes our project, as we work to ensure that all needs are met for a successful finish. .Because services may vary by location. We encourage you to contact your local service center for information regarding available services in your area. 
Custom Fabrication & Parts
Polished Finish- Laird Plastics' fabrication departments can produce flawless edge finishes with our polishing capabilities. We know acrylic for its clarity and light transmittance, but achieving success depends on the operator's technique because of its fragile makeup. Creating a clear optical edge on acrylic requires particular skills.
Machined Plastic Parts- Save time and labor by allowing the plastic experts to create custom parts based on your specifications.
Die Cutting / Stamping - Many materials can be easily die-cut or stamped. We can reduce material costs by reducing material waste and consistently repeating parts with a high yield per sheet because of the nesting process.
Either heating or cold processes can bend bending- plastic sheets.
Cold bending is an excellent solution for creating curves and bends using flat sheet stock. One benefit of cold-bending plastic is the integrity of the sheet remains intact. Hand or metal can bend many thermoplastic materials folding equipment. Acrylic, polycarbonate, PETG, and PVC are all great material options for cold bending,
Heat bending is popular because of the low tooling costs, quick setup, and consistent results. We can achieve multiple angles and configurations with heat bending based on customer requests. The heat bending process allows thermoplastic sheets to be re-molded or formed. Acrylic, Polycarbonate, PETG, ABS, and PVC are great material options for heat bending.
Vacuum Forming is one of the most popular and economical methods of molding plastic. The advantages of vacuum forming include design flexibility, time of production, lower tooling costs compared to injection molded parts, and prototypes can be produced quickly.
Custom Labeling- Our team can custom label material based on your project requirements. This creates ease and organization for complex projects.
Custom Color Match- Laird Plastics works with premium manufacturers; inquire with your local sales representative about custom color matching. Our suppliers are experts in Pantone colors, brand matching, and existing color matching.
Precision Cutting
Laird Plastics has invested in automated cutting processes to save our customers time, reduce waste, and lower overall costs. With over 50 years in plastic distribution, our standards for servicing our customers with cut-to-size and custom orders are unmatched. We pride ourselves on tight tolerances, pinpoint accuracy, and exceptional edge quality while maintaining productivity without sacrificing quality.

Horizontal Panel Saw
.
Horizontal Panel Saws offer an automated cutting process with rpm control, variable blade change, and advanced guide systems. This cutting process promotes faster speeds to make sure we cut your orders on time. Our equipment provides single sheet and volume cutting capabilities with our stocked plastic sheets. Acrylic, Polycarbonate, PVC, Foamboard, ACM, ABS are a few great options for custom cut orders.

Guillotine & Reel Stock Cutting
Guillotine machines offer precision cutting by using computerized machines to enhance accurate, clean, and scratch-free fabrication. Guillotine saws not only offer precise cutting capabilities, but the industrial cutting shears allow for large quantities of material to be cut at the same time. This speed of cutting materials enables us to deliver cut-to-size materials quickly to our customers. Guillotine machines accommodate several types of substrates and films.
Routing
Laird Plastics has a proven track record of producing high-quality routed parts on time. The art of creating a route smooth edge on multiple substrates requires precision, experience, and proper equipment—Multi-axis CNC routers aid in producing complex shapes and designs with excellent dimensional stability. Acrylic, Polycarbonate, PETG, ABS, styrene, and PVC are perfect for converting into custom parts.

Drilling
Drilling and tapping plastic is a common request among our customers. Take the risk out of fabricating and let our expert operators do the drilling! We work closely with our premier manufacturers to help educate ourselves and our customers on the best fabrication practices to consider when drilling plastics.
Custom Stocking Programs
Our job is to create material solutions that best fit your business. In doing so, we have the autonomy to develop Custom Stocking Programs. These programs reduce excess inventory, decrease upfront costs, and allow us to work together to achieve a win, win solution. We value our customers and their businesses; therefore, this service distinguishes us above the rest.
Recycling
Laird is proud to have a dedicated business unit that is solely focused on recycling plastics. Ours is a closed-loop system, in that, wherever possible, collected materials are processed and kept domestically and out of the landfills. We provide transparency to the recycling process and support claims with documented facts.Over the course of the past several years, our understanding of sustainability issues has established Laird Plastics as an industry leader. Of particular concern to us at Laird Plastics is the recycling/reuse and repurposing of materials, as well as accurate disposal documentation. For this reason, Laird Plastics has put in place "green" best practices to show environmental stewardship through recycling.
We buy materials in scrap, purge, preform, regrind, or pellet form and reprocess this into usable products. We offer balers, trailers, gaylords, and many other solutions to help made the recycling process as easy as possible. Some materials we specialize in are ABS, TPO, PC, HIPS, PETG, HIPS, PET, LDPE, PP, HDPE, HMW, and many more. Laird Plastics also extrudes custom plastic corner guards which can be customized with your logo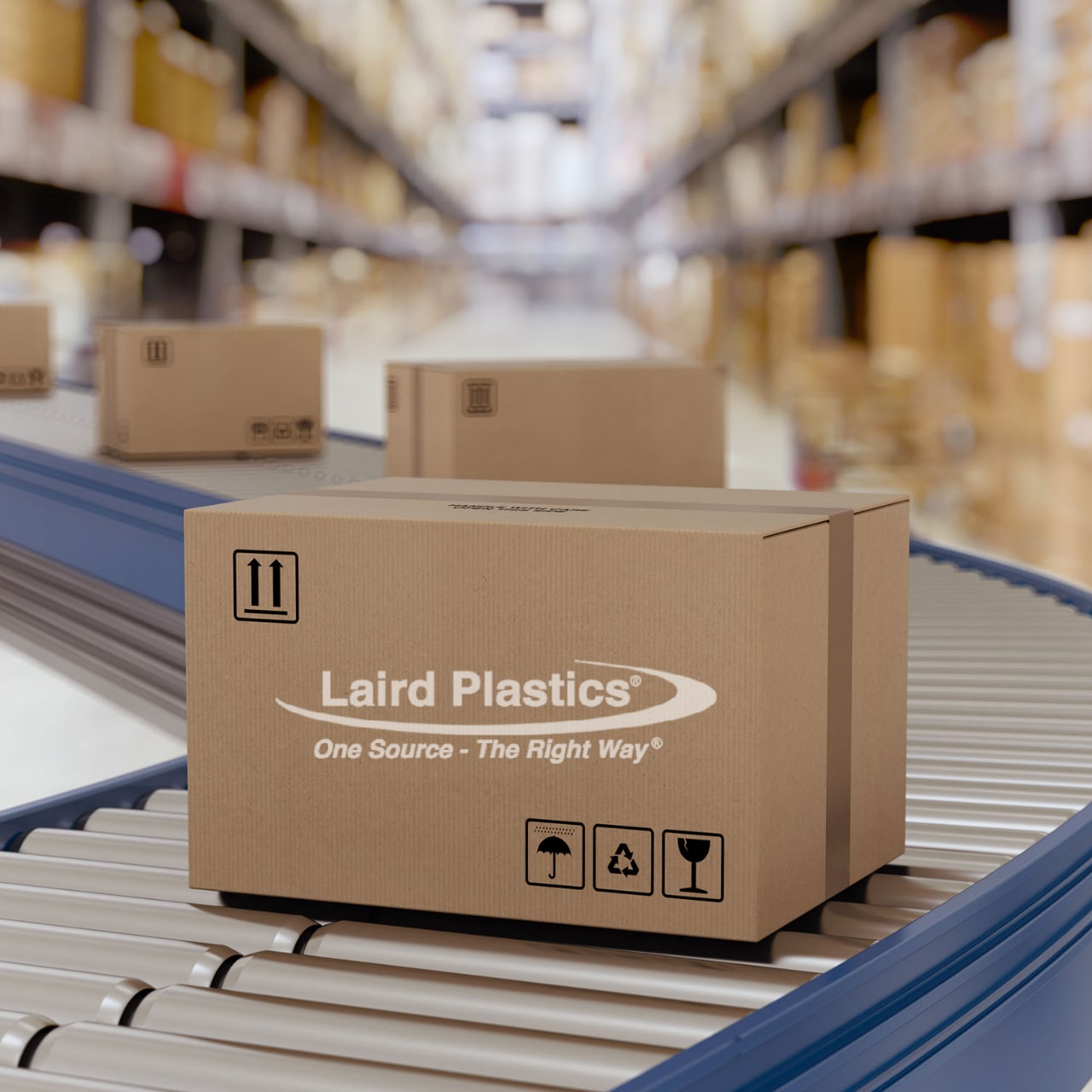 Packaging and Delivery
We understand the importance of our materials' impact on your business. We take pride in how our material is packaged and delivered. It is our responsibility to ensure the product delivery is accurate, consolidated, protected, palletised, and on time! At Laird Plastics, we are proud of our delivery rate and stock materials based on our customers and market needs.At every Laird Plastics location, we offer a same-day, next-day or scheduled pickup option. Our local teams enjoy servicing and building further relationships with our customers from our pickup counters with warehouses across the US. This is a great option for fast and reliable service!
Contact Your Local Service Center for Available
Services in Your Area