Laird Plastics - Spokane, WA Plastics Supplier
Laird Plastics is a leading supplier of plastic sheets, rods, and tubes. With a commitment to customer satisfaction and on-time delivery, we offer fast and reliable service to all of our clients. At Laird we're excited to offer custom stock programs, and cutting capabilities to help you get the job done right. We are dedicated to providing quality products and fabrication services that meet your business's needs. Contact us today to learn more about how we can help you!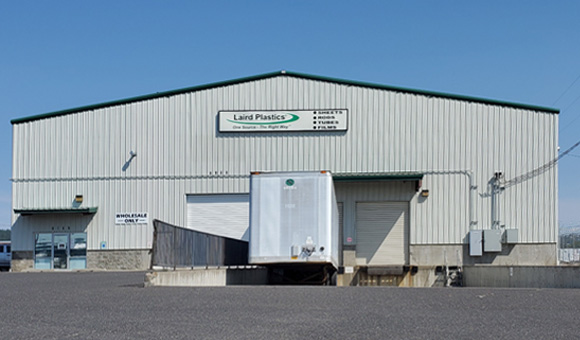 Address:                       7017 East Mission Avenue
                                        Spokane Valley, WA 99212
Toll Free:                                            800-365-1456
Telephone:                                         509-535-2006
Fax:                                                     509-535-0969 
Email:                          spokane@lairdplastics.com
Business Hours
| | |
| --- | --- |
| Monday   |   to  |
| Tuesday   |   to  |
| Wednesday |   to  |
| Thursday |   to  |
| Friday    |   to  |
| Saturday  |            Closed |
| Sunday   |            Closed |
About This Location
At our Spokane location, we specialize in catering to a diverse range of industries and applications, ensuring that your plastic needs are met with precision and expertise. Our primary focus areas encompass Semiconductor, High Performance Plastics, OEMs, Machine Shops, Glass Houses, and Sign and Graphics sectors. Whether you require cutting-edge solutions for semiconductor manufacturing or innovative plastics for signage and graphics, Laird Plastics Spokane is your trusted partner.
Not only do we excel in providing tailored plastic solutions, but we are also committed to environmental sustainability. Our dedication to recycling underscores our commitment to responsible plastic usage. In addition to offering a wide array of plastic products, our Spokane location provides an array of supplementary services that enhance the versatility of our offerings
Services Offered:
CNC routing
horizontal panel saw cutting
beveled edges
drilling
line bending
flame polish
Providing Solutions For:
Semiconductor
High Performance Plastics
OEM's
Machine Shops
Glass Houses
Sign and Graphics