Laird Plastics - Moncton, NB Plastics Supplier
Laird Plastics is a leading supplier of plastic sheets, rods, and tubes. With a commitment to customer satisfaction and on-time delivery, we offer fast and reliable service to all of our clients. At Laird we're excited to offer custom stock programs, and cutting capabilities to help you get the job done right. We are dedicated to providing quality products and fabrication services that meet your business's needs. Contact us today to learn more about how we can help you!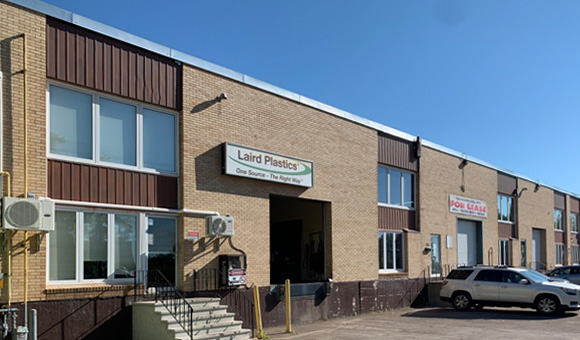 Address:                                  155 Henri Dunant St
                                               Moncton, NB E1E 1E4
Toll Free:                                             800-561-3964
Telephone:                                         506-857-0004
Fax:                                                      506-859-8291 
Email:                          moncton@lairdplastics.com
Business Hours
| | |
| --- | --- |
| Monday   |   to  |
| Tuesday   |   to  |
| Wednesday |   to  |
| Thursday |   to  |
| Friday    |   to  |
| Saturday  |            Closed |
| Sunday   |            Closed |
At our Laird Plastics Moncton location, our team boasts a combined 85 years of invaluable experience in the plastics industry. With the assistance of our three Inside Sales Representatives (ISRs), one CNC programmer/operator, and two dedicated warehouse/fabricators, we stand ready to provide expert guidance to our clients. We understand that selecting the right material is the foundation of any successful project, and our wealth of knowledge ensures that you'll make the best choice for your unique needs.
Our expertise extends across a wide spectrum of applications and industries, making us your trusted partner for diverse projects. We excel in mechanical and engineering materials, offering a comprehensive range including UHMW, LDPE, HDPE, nylons, and acetals. Whether you're working on industrial equipment, custom machinery, or precision components, we have the right materials to meet your specifications and exceed your expectations. With our dedication to top-notch service and extensive product knowledge, Laird Plastics Moncton is your go-to source for all your plastic material and fabrication needs.
Services Offered:
CNC routing
Die cutting
Guillotine cutting
Horizontal panel saw cutting
Beveled edges
Drilling
Engraving
Stamping
Line bending
Welding
Flame polish
Assembly
Cnc milling
Cnc turning
Providing Solutions For:
Mechanical/engineering material available in UHMW, LDPE, HDPE, nylons, and acetals.
Food industries
Lumber Alternatives
Material Handling
Transportation
Foam boards, styrene, polypropylene, and vinyl banner
Sign and graphics industry